Colored coin 3 euro Austria 2022 – Pachycephalosaurus
€22.00 includes 20% VAT
Colored coin 3 euro Austria 2022 – Pachycephalosaurus
€22.00 includes 20% VAT
This is the eleventh coin in the series. The Supersaurs series brings prehistoric giants back to life in the form of 12 gorgeous glow-in-the-dark coins.
Pachycephalosaurus means "fat-headed lizard" in Greek. It lived in what is now the northwestern United States and Alberta in Canada during the Late Cretaceous, about 70 million years ago. The unusually curved, spiked skull was unique among dinosaurs. This species could see in three dimensions.
Obverse: A colorful Pachycephalosaurus threatened by a predatory Allosaurus in a prehistoric landscape.
Reverse: silhouettes of all 12 prehistoric animals from the "Supersaurs" series.
Series: Supersaurs
Denomination: 3 euro
Weight: 16g
Diameter: 34mm
Material: CuNi
Quality: UNC
Circulation: 65,000 pieces
All 3 euro coins in this series are legal tender in Austria.
In stock
Additional information
| | |
| --- | --- |
| Collections | |
| Country | |
| Quality mark | |
| Type | |
| Year | |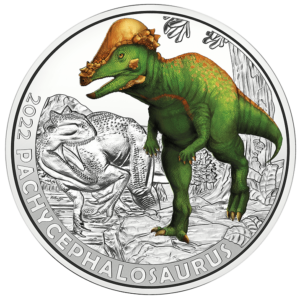 Colored coin 3 euro Austria 2022 – Pachycephalosaurus