Colored Silver Coin 1$ Australia 2021 – Quokka PROOF 1 oz
€75.00 Price includes 20% VAT
Colored Silver Coin 1$ Australia 2021 – Quokka PROOF 1 oz
€75.00 Price includes 20% VAT
The quokka is one of the smallest species of wallaby, found mainly in the southwestern part of Western Australia, especially on Rottnest Island, in an idyllic location 18 km off the coast of Perth. Due to its cute, smiling appearance, the quokka is known as "the happiest animal in the world." Quokkas have little fear of humans and usually come close to them.
Quokka is a vulnerable species. It is illegal for members of the public to treat animals in any way, and feeding, especially "human food", is especially discouraged as they can easily get sick. The maximum penalty for cruelty to animals is a $50,000 fine and 5 years in prison.
Series: Quokka
Denomination: 1 AUD
Weight: 31.1g (1oz)
Diameter: 40.9mm
Thickness: 3.5mm
Material: Ag 9999
Quality: PROOF
Circulation: 5000
Packing: capsule, box
A certificate of authenticity is included.
In stock
Additional information
| | |
| --- | --- |
| Collections | |
| Country | |
| Quality mark | |
| Year | |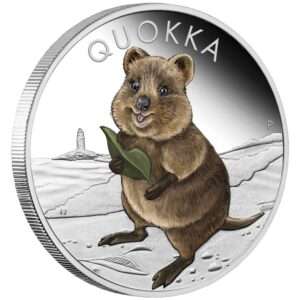 Colored Silver Coin 1$ Australia 2021 – Quokka PROOF 1 oz