Silver coin 7,5 euro Portugal 2022 – 500 years since the first circumnavigation of the world PROOF
€65.00 Price includes 20% VAT
Silver coin 7,5 euro Portugal 2022 – 500 years since the first circumnavigation of the world PROOF
€65.00 Price includes 20% VAT
The first circumnavigation of the world was a Spanish sea expedition led by Fernand Magellan, which began on September 20, 1519 and ended on September 6, 1522, under the command of Juan Sebastian Elcano. Ferdinand Magellan discovered the strait, later named after him, becoming the first European to travel by sea from the Atlantic to the Pacific.
Obverse: The ship "Victoria" returning to port with severely damaged sails.
Reverse: Armillary sphere, a symbol of achievements in the art of navigation.
Denomination: 7.5 euro
Alloy: 925 silver
Quality: PROOF
Weight: 13.5g
Diameter: 33mm
Mintage: 2500
Packing: capsule, box
A certificate of authenticity is included.
In stock
Additional information
| | |
| --- | --- |
| Collections | |
| Country | |
| Quality mark | |
| Type | |
| Year | |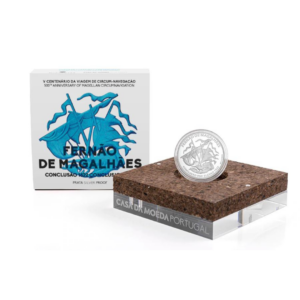 Silver coin 7,5 euro Portugal 2022 – 500 years since the first circumnavigation of the world PROOF